What are the Latest Passport Rules?
US passport rules are changing on a regular basis. Do you have the latest information? Will you have the proper documentation for your trip?
The U.S. State Department has been phasing in new regulations for American citizens traveling to every country, including Canada, Mexico and the Caribbean. And, because of the high volume of applications that this caused, the passport rules were "bent" for awhile to accommodate travelers to these countries.
But the backlog of applications has eased up, and the "bending" of the rule is over - although the FINAL version of the passport regulation is still not in effect!
Confused? You're not alone!
Here are the current passport rules, from the U.S. State Department:
- If you are traveling ANYWHERE outside of the U.S., by AIR, you need a US passport. You may or may not need a visa also (more on that later), but in any case, have these documents well in advance of your trip. Not having the right documents WILL delay (or even cancel) your trip.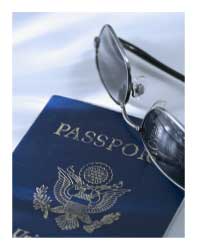 U.S. PASSPORT AND OTHER TRAVEL DOCUMENTS
- As of June 1, 2009, you will need a WHTI-compliant document to re-enter the U.S. if traveling to Canada, Mexico or the Caribbean if traveling by land (crossing the border by car or on foot) or on a CRUISE.
- If traveling on a "closed loop" cruise (starting and ending at the same U.S. port), a birth certificate is adequate. However, you may need a passport for shore excursions in Mexico or the Caribbean.
The documents that will be accepted are:
* US passport: U.S. citizens may present a valid U.S. passport when traveling via air, land or sea between the U.S. and the aforementioned Western Hemisphere countries.
* The Passport Card: This limited-use, wallet-size passport card is not yet available and is under development. When available it will only be valid for land and sea travel between the U.S. and Canada, Mexico and the Caribbean region (includes Bermuda).
* An enhanced driver's license (EDL): This is a high-tech version of a conventional driver's license. Like other passport-type documents, it has an RFID chip that contains the holder's information. It requires proof of citizenship as a condition of issue, and is intended for people who live near a border and cross often (ie, those who live in Washington state and drive to Vancouver often). It is not intended for tourist use.
* Other Accepted Travel Documents: SENTRI, NEXUS, FAST and the U.S. Coast Guard Mariner Document. Members of the U.S. Armed Forces on active duty traveling on orders are exempt from the passport requirement. DHS has more information on these travel documents. This information may be seen at www.dhs.gov.
There are a couple more things to keep in mind about passports:
- Most countries require that your passport be valid for up to six months after the end of your trip. If you are traveling to France, for example, from March 1 to March 15, your passport must be valid until September 15.
- You do NOT need a passport to travel to U.S. territories off the mainland. Puerto Rico, the U.S. Virgin Islands and Guam are all part of the U.S. and do not require passports.
A US passport costs $97 total, and it's good for 10 years. With the trend towards requirement of the passport for all travel outside of the U.S. and it's territories, the best course of action is to just get the passport - then you'll be ready for anything!
Visas
Like passport rules, Visa requirements may seem daunting - but the information is easy to find.
Many countries require U.S. citizens to obtain visas before entering their country. In many cases, tourists visiting for less than 60 or 90 days do not need a visa; in some cases, a visa can be obtained at the airport when you arrive in the country you are visiting.
The requirements for visas are different for every country, and change often. The best way to find out what you need to do is check the  US Passport website for information on the country you are traveling to. Enter the country name, then look for "ENTRY/EXIT & VISA REQUIREMENTS". This will tell you what documents you will need and how to get them.
Foreign travel isn't as difficult as it sounds - once you understand the latest passport rules and know what documents you need, it isn't hard to get them - and a whole new world opens up to you!
For more airport tips:
For packing tips:
Where Would You Like to Go Next?
For more vacation ideas :