Shop a European Christmas Market to Get in the Holiday Spirit!
Immerse yourself in the sights, sounds and smells of the season at a European Christmas Market. If you love Christmas, this is a great way to get into the spirit of the holiday!
The Christmas markets of Europe, held in the historic towns of Nuremburg, Bratislava, and Budapest, among others, are an old-fashioned way to celebrate the season.
Visit Charming European Villages and Take a Trip Back in Time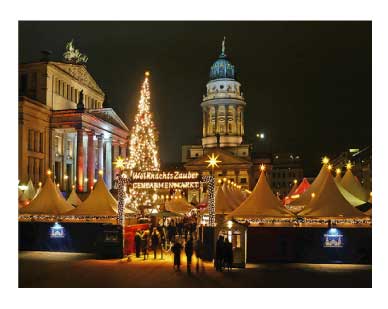 Many of our Christmas celebrations are grounded in the traditions of European ancestors. Nutcrackers, mulled wine - even our Christmas trees - are all European traditions.
A European Christmas market (also calledChristkindlmarkt) is a trip back in time, to the narrow streets many of our great-grandparents wandered. The foods, crafts, and gifts available there are reminiscent of those our great-grandparents would have enjoyed.
Many of the Christmas markets have been held annually for centuries (the oldest, in Dresden, began in the 1400's!).
The German Christmas markets in Nuremburg, Stuttgart, and Munich are still among the most popular, visited by many thousands of people each year.
The holiday markets were traditionally located in the town square, often near the church - the intention was to attract buyers after church services, but some clergymen complained that the markets were so popular, parishioners skipped services to shop!

Some holiday markets were started much more recently, but all are unique - only local vendors are allowed to sell their wares, so each market promotes the foods and crafts of the area.



These markets are unabashedly Christmas - celebrating both the Christian tradition and the secular, "Santa/Kris Kringle" tradition.
They may be open only a few days, but most are open for weeks, generally during the entire Advent season.
| | |
| --- | --- |
| | These markets are a cacophony of sights, sounds, and smells of the season.Christmas music mingles with the smells of roasting chestnuts, mulled wine, and gingerbread, while each stall offers colorful wooden toys, blown glass ornaments, painted nutcrackers, knitted woolen socks and mittens, and many, many, more holiday treats and gifts! It would be hard not to get caught up in the spirit of the holiday! |
How do you find these markets?
There are several Christmas market tours that visit Europe during the holiday season (generally from late November to Christmas).
A European holiday river cruise visits several cities without the need to unpack and get on a bus - a great way to explore the markets. You can experience Christmas in Germany, Austria, and Hungary all in one trip!
On the following pages, we'll tell you about several land and Christmas cruises you can choose from - whatever mode you pick, exploring European Christmas Markets is an experience not to be missed!
And since there are so many markets and so many ways of visiting them - you can try something different every year!
Where Would You Like to Go Next?
For more vacation ideas :