Vacation Photo Galleries
Have a great vacation photo?
Or even some not-so-great vacation photos?
We'd love to see them! You don't have to be a pro - some of the best pictures are not stunning scenery but simple snapshots that capture a great moment.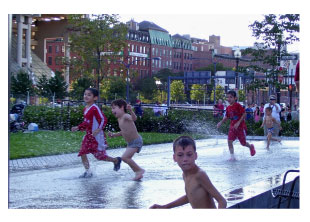 The one above, for example - no, that's not my kid in the picture.
I was in Boston on a beautiful summer evening, and a group of kids was playing in the reflecting pool on the Rose Kennedy Greenway. Their excitement was infectious, and I just had to take this shot - it's one of my favorite memories of Boston.
What are your favorite memories?

Share them!
Click the link below for the submittal form.
See Other Vacation Photos
Click below to see vacation photos from other visitors to this page...

Where Would You Like to Go Next?
For more vacation ideas :