Theater Marquee for The Mousetrap
by Judy
(Milwaukee, WI)
Theatre Marquee for The Mousetrap
One of my goals in London was to see a show in the West End - but so many of the shows had already "crossed the pond", and I really didn't need to see "Wicked" again (as much as I enjoy it!).

I wanted to see something that you can only see in London - and The Mousetrap certainly fills the bill! It's been produced in London, non-stop, for 58 years! I have to admit, it wasn't the finest play I've ever seen - but it was fun, and it felt very "London"!
Theatrical Costumes at V&A Museum
by Judy
(Milwaukee, WI)
Dame Edna's Dress and other theatrical costumes
The Victoria & Albert Museum also has an extensive collection of theatrical costumes, props, set models, etc. They explain the whole process of mounting a show, from the concept stage, through design and production, and even marketing.

The costume on the left was one of Dame Edna's - there are several of her costumes and hats on exhibit, and I just loved them!
Fashion Exhibit at the V&A Museum - 2
by Judy
(Milwaukee, WI)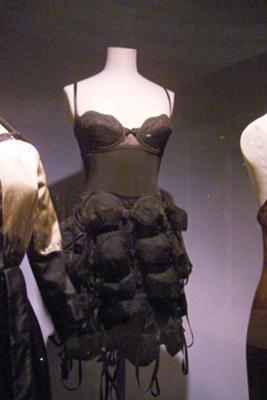 A "Little Black Dress" - made of bras
This was just for fun - this dress is made entirely of black bras! Unfortunately, the photo isn't very clear - but if you look closely, you'll see that the skirt is covered in black bras - a "spoof" on the "little black dress" (I did not write down the designer's name - sorry!)
Swans in Hyde Park
by Judy
(Milwaukee, WI)
Swans in Hyde Park
Hyde Park really is lovely, even in the Fall when the grass is relatively brown. The leaves were so many colors of red, yellow, and orange, though - we had a great view from our hotel window!

The river running through the park is home to many swans - they were swimming so gracefully, and I loved the bridge they just swam under. I'd definitely stay in the Hyde Park area on my next trip to London.
Peter Pan Sculpture in Hyde Park, London
by Judy
(Milwaukee, WI)
Peter Pan Sculpture in Hyde Park
I stayed in a hotel across the street from Hyde Park during my recent visit to London. We walked through the park daily; it is so quiet and pretty!

There are several sculptures and statues thoughout the park, but this one, of Peter Pan, Tinkerbell, and other characters, is my favorite.

J.M. Barrie lived near Hyde Park and spent a lot of time there.
Fashion Exhibit at the V&A Museum
by Judy
(Milwaukee, WI)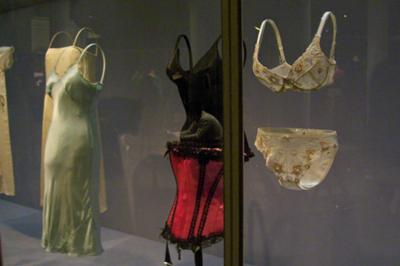 The History of Underwear!
The Victoria and Albert Museum is wonderful! I had such a great time there. They have an extensive fashion exhibit - and the "history of underwear" is a fun part of it!