Christmas Tours in Europe to Get in the Holiday Spirit
Christmas tours in Europe are a sure way to rekindle your holiday spirit. Enjoy lights, mulled wine, holiday foods and crafts throughout Europe during the holiday season with a tour designed to celebrate the season.

Bring out the holiday spirit with the sights and sounds of Christmas celebrations! Discover the origins of many of our Christmas celebrations in the centuries-old Christmas markets (or Christkindlmarkt), generally open from November to the New Year. Many Christmas tours of Europe visit markets in several towns over the course of a week.
Or, if you're lucky enough to be spending the holidays in Europe and just want to spend a day or two on a Christmas tour, there are plenty of options for you, too.

If you happen to be in Salzburg, indulge in a horse-drawn sleigh ride along the frozen Salzach river! The sleigh will take you to the village of Schladming, where you can enjoy lunch at a local inn, wander the village, and enjoy the wintry sights.
Or, take a tour to the neighboring village of Oberndorf, where you'll celebrate a lovely, traditional Christmas Eve mass at the Silent Night Chapel.
If you're in Rome, you can enjoy a Christmas Day guided stroll through the cobblestone streets, taking in the decorated trees and the Nativity scene at St. Peter's Square. Then, take a break with Italian coffee at a local cafe!
If you're in Paris with a small group (up to 8 people), you can enjoy an escorted walk that includes a local Christmas market and lots of tastings at bakeries and patisseries! What a great way to enjoy the holidays!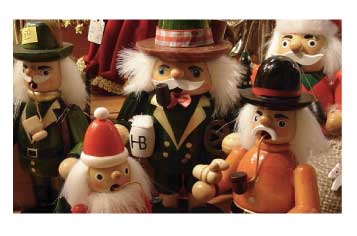 For a full week's celebration, Go-today Tours has a Christmas Delight Tour that celebrates Christmas in Frankfurt, Dresden, and Bamberg, Germany. You'll visit holiday markets in several villages, and enjoy lots of local color with festive trees and lights, wooden toys, hand-made lace, and tasty treats.
You'll also enjoy the charm of the villages in their cathedrals and museums. Travel between towns is by comfortable bus.
Collette Vacations has an Alpine Christmas Tour that allows you to get settled in your hotel in Innsbruck, and take day trips to markets in Munich and Salzburg for shopping.
You can pick up woodcarvings in Oberammergau, home of the famous Passion Play. Return to Innsbruck every night - no need to pack and unpack every day!
If you prefer to explore on your own and like the idea of spending Thanksgiving or Christmas in Europe, go-today tours has attractively priced air and hotel packages for Prague, which has a very nice Christmas Market. You can stay for 4, 5, or 6 nights, and spend your time touring Prague and shopping their holiday market. go-today also offers city tours to add to your Prague adventure.
Many of these markets have been active for centuries - take a Christmas tour in Europe this Fall and start shopping!
Where Would You Like to Go Next?
For more vacation ideas :