Save Money on Hotel and Other Accommodations
If you can save money on hotel rooms or condos - even just a few dollars a night - it can add up quickly and make that vacation a lot more affordable.
We can show you how to save money on hotel and condos - but it starts with deciding what kind of accommodations are right for your particular vacation.
What level of luxury and comfort are you expecting from your accommodations? Look for value, without compromising quality.

For a beach vacation, you might want to splurge on a more luxurious resort, but look for a condo where you prepare your own meals or an all-inclusive plan that can save money on meals.



For a city vacation with mostly sightseeing activities, a basic hotel with breakfast included might be a better choice.
Tips to Save Money on Hotels, Resorts and Condos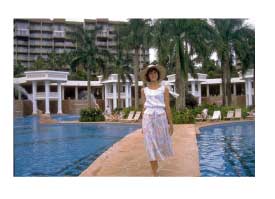 - Hoteis.com
has tons of deals on hotels all over the world. It's a great little search engine, with reviews and rankings from people who have stayed at the hotels listed. You can save money on hotel rooms and get the best room for your dollar! I use this one a lot!
- If you are using a travel booking engine (like Travelocity), book your flight and hotel together (you can add a car, too). Packages are usually a bit less expensive than the same flight, hotel and car booked separately.
Travelocity Hotels - Low Rates GUARANTEED
- Save money on hotel expenses by not staying in a hotel at all! Condos can be money-savers for 4 or more travelers. They are generally not much more expensive than a hotel or resort, but offer more room. Although 4 people can sleep in a standard hotel room, it will be much more cramped than even a one-bedroom condo with sofabed. If you are tempted to get 2 rooms to accommodate 4 people comfortably, consider a one- or two-bedroom condo instead.TripAdvisor offers vacation rentals of many kinds, including condos, and houses.

- Always check for discounts from organizations you may belong to. AAA, AARP, and the military can often garner a discount. Entertainment books also offer discounts for hotel chains, and if you purchase a book for your U.S. or Canadian destination, you'll get coupons for meals and attractions, too.
- Consider a budget chain, like Hampton Inn or La Quinta to save money on your hotel. I save my money for vacations in "paradise" - in Hawaii or Mexico, the resort I'm staying at is part of the destination. But for a city vacation, such as San Francisco or New Orleans, you can find good accommodations for less - and if you're spending the day sightseeing rather than lounging on a beach, do you need an expensive hotel? Many moderate and budget chains are upgrading their rooms and ammenities, too - you might not get room service, but a nice pool, exercise room, and continental breakfast are not unusual.
Where Would You Like to Go Next?
For more vacation ideas :