Why Not Learn to Surf?
Sure, surfing is intimidating.
But you can learn to surf in less than 2 hours at most surf camps!
There are women's surf camps that are somewhat less competitive, so that takes some of the pressure off. And imagine boasting to your friends what you accomplished!
| | |
| --- | --- |
| | Surf camps specialize in beginners, so you will learn everything about surfing, from your board to the waves to surfing safety. They are available to all ages, so wouldn't this be a great mother-daughter experience? (However, you MUST be a competent swimmer to learn surfing.) |
There are surf camps available all over the world, too, so you can experience another culture while learning to ride the waves!
Here are a few examples:
Santa Cruz, California and Nosara, Costa Rica
Richard Schmidt Surf School - The Richard Schmidt Surf School has a Costa Rica surf camp, and another in Santa Cruz, CA. They offer 2-hour lessons in Santa Cruz (guaranteeing that you will stand and ride a wave at the end of the first lesson), and full week surf camps in both locations. The Santa Cruz location offers lessons and camps year-round.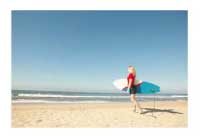 Maui, Hawaii
Goofy Foot Surf School - Hawaii surf lessons are the best! Goofy Foot Surf School offers 2-hour surf lessons and a guarantee you will be standing on your board at the end of your FIRST lesson! Open to kids as well as adults, Goofy Foot has a non-competitive atmosphere and emphasises safety and ocean awareness. They also have half-day and full-day surf camps.
Puerto Vallarta, Mexico
Las Olas Surf Safaris - The motto of Las Olas Surf Safaris is "We make girls out of women" - the point is to have fun! The week-long safaris include daily surf lessons (starting with beginners), one private lesson, daily yoga sessions, and a massage. Cultural activities are also available, from how to make salsa and guacamole, to Salsa dancing, Mexican crafts, and a bit of Spanish language instruction.
Bali, Indonesia
Surf Goddess Retreat - Learn to surf in Bali!! Surf Goddess offers beginner, intermediate and advance surfing lessons in full-week surf camps. They also offer daily yoga sessions, and cultural tours of Bali. They even have an Indonesian cooking class! They also offer a diving retreat (lessons are NOT included in the surf retreat). The retreats are limited to 8 people for personalized attention. The retreats go well beyond surfing for the ULTIMATE beach experience!
Other Sites Suggested by Readers
We love reader suggestions! (You can click on the "suggest a site" button to the left, or "advertising", if you have an activity you think our readers would like).
Here are some of the sites others have suggested:
Where Would You Like to Go Next?
For more vacation ideas :