Welcome to Great Women's Vacations, the place to get great vacation ideas for your next girlfriend getaway, sisters trip, or mother-daughter vacation.

Be sure to "like" us on Facebook! (facebook.com/Gr8WomensVac)

Keep up to date with the latest news on a regular basis with Great Womens' Vacations on Facebook.
Plan Now To Visit European Christmas Markets!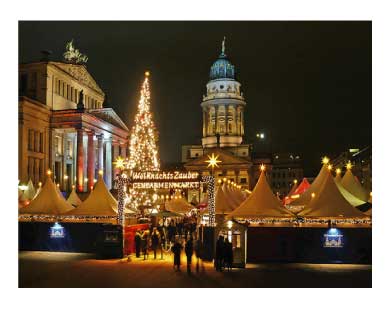 I know it's only September, but it's not too early to start thinking about doing your holiday shopping - at a European Christmas Market!

• European Christmas Markets are absolutely charming; they're old-world Europe at it's best, with snow, roasting chestnuts, hot cider, and lots and lots of booths with hand-crafted items perfect for gift-giving.

• There are many ways to visit these markets; my favorite is a Christmas Market River Cruise. Just like any European river cruise, you'll travel from one town to the next on a lovely river ship, stopping in the heart of each old city to tour the town and visit the markets. But these cruises combine sightseeing with holiday festivities - and are tons of fun!

• If you're not interested in a river cruise, there are several very good Christmastime land tours , some of which allow you to stay in one place and take you to a different market in a nearby town each day. Others, like the river cruise, travel from town to town by bus.

No matter how you travel to the markets, this is a trip you have to take once in your life!

Next month, we'll talk about adventure travel!

Until next time - Happy Travels!




Great Women's Vacations in Woman's Day Magazine!!


Great Women's Vacations has been mentioned in an article in the May, 2011, issue of Woman's Day Magazine. The article, about planning a girlfriend getaway, has lots of tips on how to handle finances, responsibilities, etc - along with plenty of reasons you need to get away with "the girls"! We're mentioned at the end of the article, with other resources for planning your getaway.