Greetings!



Welcome to Great Women's Vacations, the place to get great vacation ideas for your next girlfriend getaway, sisters trip, or mother-daughter vacation.

Be sure to follow us on Facebook! (facebook.com/Gr8WomensVac)

Keep up to date with the latest news on a regular basis with Great Womens' Vacations on Facebook.
For a Quick Weekend Getaway Try San Antonio!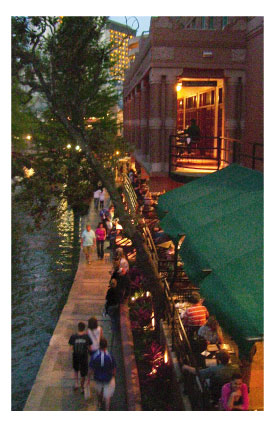 •Need a new idea for a weekend getaway with the girls?

How about San Antonio?

I visited San Antonio last year with my sisters, and had the best time!

I don't know why we didn't think of this before; everyone thinks about NYC, Boston, or San Francisco for a quick weekend away. But I've discovered that San Antonio has just as much to offer, without the noise and the traffic. It's one of the largest cities in the US, but feels much smaller and friendlier.

The riverwalk alone is reason enough to visit! It is truly gorgeous; I've walked along the river in the morning sunlight and with the lights at night. It's just the most fun place to be at any time of day!

Whether you love shopping, dining, or sightseeing, you can do it along the riverwalk.

You'll also find historic sites, a lovely botanical garden, and a beautiful zoo within the city. Venture out a bit, and you'll experience the gentle hills and charming towns of the Hill Country (lots of shops and wineries there, too!).

And the food! You can enjoy Texas Barbeque, Tex-Mex, and Mexican every day (we did!). There are restaurants of all cuisines and all price levels. Go ahead and ditch the diet - indulge and have fun!

Next time you're looking for a getaway for you and your friends, consider San Antonio!


Next month, we'll talk about Fall Getaways!

Until next time - Happy Travels!




Great Women's Vacations in Woman's Day Magazine!!


Great Women's Vacations has been mentioned in an article in the May, 2011, issue of Woman's Day Magazine. The article, about planning a girlfriend getaway, has lots of tips on how to handle finances, responsibilities, etc - along with plenty of reasons you need to get away with "the girls"! We're mentioned at the end of the article, with other resources for planning your getaway.