Welcome to Great Women's Vacations, the place to get great vacation ideas for your next girlfriend getaway, sisters trip, or mother-daughter vacation.

Be sure to follow us on Facebook! (facebook.com/Gr8WomensVac)

Keep up to date with the latest news on a regular basis with Great Womens' Vacations on Facebook.
Are You Ready for Adventure?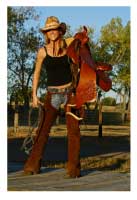 • Many women are intimidated by the idea of "adventure travel".
Doesn't that refer to exploring Antarctica, herding cattle, or climbing Mt. Kilimanjaro? Isn't that "guy stuff"?
Well, no - not necessarily.
Adventure travel can mean many things - really, it's anything that pushes your boundaries and forces you to challenge yourself!
It can be a strenuous hike to Machu Picchu, or a more laid-back exploration of the hills of Tuscany on foot.
It can be exploring Antarctica, or a small-ship exploration of the glaciers of Alaska (and I'm not talking about a day trip from an oceanliner!).
It can also mean learning to surf or immersing yourself in a foreign culture on a volunteer vacation or teaching English abroad.
• Many women are also "put off" by the idea of undertaking an adventure vacation with their husband or boyfriend. There is often a competitive factor in many of the activities and they're afraid of always coming up short against their stronger partner.
Or, they're afraid their partner will consistently "help" them, and not allow them to fully challenge themselves.
Fortunately, you don't have to worry about that! There are many travel companies that specialize in women's adventure travel. AdventureWomen, Sisters on the Fly, and Womenship, among others, offer sailing, surfing, horsebackriding, backpacking, and much, much more - for women only!! Anything you can dream of, you'll find with women-only adventure travel.
You can also check out G Adventures
or Intrepid Travel - small group tours
that include both women and men. While the tours are co-ed, they offer excellent adventures!




Next month, we'll talk about Weekend Getaways - especially places to enjoy Fall colors!

Until next time - Happy Travels!




Great Women's Vacations in Woman's Day Magazine!!


Great Women's Vacations has been mentioned in an article in the May, 2011, issue of Woman's Day Magazine. The article, about planning a girlfriend getaway, has lots of tips on how to handle finances, responsibilities, etc - along with plenty of reasons you need to get away with "the girls"! We're mentioned at the end of the article, with other resources for planning your getaway.