Welcome to Great Women's Vacations, the place to get great vacation ideas for your next girlfriend getaway, sisters trip, or mother-daughter vacation.

Be sure to "like" us on Facebook! (facebook.com/Gr8WomensVac)

Keep up to date with the latest news on a regular basis with Great Womens' Vacations on Facebook.
It's Getting Cold Out There - Who Wants to Get Away??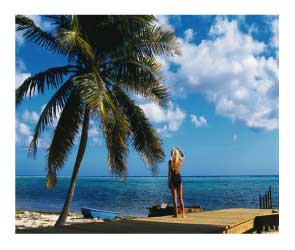 • It's definitely winter here in the US!!
And before the first snowflake hits the ground, everyone is thinking of ways to escape the cold. If you want to get away to a tropical beach vacation in January, February or March, now is the time to start planning.
It's "high season", when everyone heads to warm climates, but deals can be found, especially at sites like CheapCaribbean.com.
They offer specials to all of the Caribbean (including Mexico); I always check there first for great deals!
• "NO PASSPORT NO PROBLEM"
! There are islands in the Caribbean you can visit without a passport, like Puerto Rico or the US Virgin Islands. They're easy to get to for a great winter escape!

• And, of course, don't forget Hawaii! It's one of my favorite destinations - I've been there several times, and I think Maui is my favorite island, with Kauai being a close second. It's not as expensive as you might think, and well worth the trip.

Relax and enjoy your beach vacation!

Next month, we'll talk about learning vacations - Start the New Year with a New You! Learn a new language, enjoy your favorite hobby, or take a cooking class.

Until next time - Happy Travels!




Great Women's Vacations in Woman's Day Magazine!!


Great Women's Vacations has been mentioned in an article in the May, 2011, issue of Woman's Day Magazine. The article, about planning a girlfriend getaway, has lots of tips on how to handle finances, responsibilities, etc - along with plenty of reasons you need to get away with "the girls"! We're mentioned at the end of the article, with other resources for planning your getaway.