Welcome to Great Women's Vacations, the place to get great vacation ideas for your next girlfriend getaway, sisters trip, or mother-daughter vacation.

Be sure to "like" us on Facebook! (facebook.com/Gr8WomensVac)

Keep up to date with the latest news on a regular basis with Great Womens' Vacations on Facebook.
Are You Tough Enough for Adventure Travel?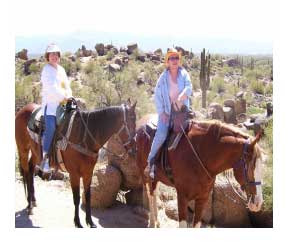 Are you ready for a vacation that's a bit more challenging than a trip to the spa, but a little intimidated by the idea of "adventure travel?"

Even women who are athletic and work out regularly may blanche at the thought of rock climbing or whitewater rafting, especially if the trip is co-ed and there are guys around.

• Don't worry; the "adventures" we're talking about are women only - no guys to compete with! (This is the only page on the site that is truly "women only", not just "of interest to women").

• And the adventures aren't extreme sports - how about a cowgirl retreat with horseback riding and fly fishing? Or sailing, or backpacking solo around the world? These vacations are designed to challenge you, but not to overwhelm you. It's still a vacation - you want to have fun!

Scroll to the bottom of the page for more options, suggested by readers. You'll find plenty to choose from!

Be sure to check out the Calendar of Events , too. Some of the events are adventurous, but only offered for a short time - you'll only find those on the calendar!

Next month, we'll talk about travel tips!

Until next time - Happy Travels!




Great Women's Vacations in Woman's Day Magazine!!


Great Women's Vacations has been mentioned in an article in the May, 2011, issue of Woman's Day Magazine. The article, about planning a girlfriend getaway, has lots of tips on how to handle finances, responsibilities, etc - along with plenty of reasons you need to get away with "the girls"! We're mentioned at the end of the article, with other resources for planning your getaway.