Great Women's Vacations in Woman's Day Magazine!!


Great Women's Vacations has been mentioned in an article in the May, 2011, issue of Woman's Day Magazine. The article, about planning a girlfriend getaway, has lots of tips on how to handle finances, responsibilities, etc - along with plenty of reasons you need to get away with "the girls"! We're mentioned at the end of the article, with other resources for planning your getaway.


Be sure to "like" us on Facebook, too! (facebook.com/Gr8WomensVac)

Keep up to date with the latest news on a regular basis with Great Womens' Vacations on Facebook.
Want to See the Real Paris, London, etc.?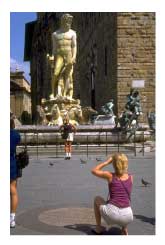 Get off the bus and take a walking tour!
• Walking tours are a great way to get introduced to a new city. Rent an audio tour and listen to the history of your destination while strolling at your own pace. You can turn it off or on at any time, so if you pass a great little cafe and are ready for a break, relax and enjoy! (And audio tours, downloaded to your iPod, are so much easier than paging through a book while you walk!)
• Walking tours also let you really explore a single aspect of the city - like a Paris Gourmet Food Walking Tour for foodies, or the NYC Original Rock n' Roll Tour for rock fans. And almost every city has a ghost tour - those are always fun!
• For the more adventurous, how about a week-long walking tour across the country? No, you don't literally walk all across the country; you're picked up and driven, too. But Country Walkers offers tours throughout the world (including the US) that let you really explore the countryside outside of the city. Walk through Italy and learn about food and wine; or explore tribal villages in Morocco. These are truly stunning, once-in-a-lifetime experiences.
Next month, we'll talk about cooking trips - yum!
Until next time - Happy Travels!