The Best Travel Deals and Current Specials
This page is where we put the good stuff - the best travel deals, cheap vacations, and interesting trips - some really great vacation ideas! Stuff that isn't available all the time - maybe a sale, maybe a great tour that only happens once a year, or a vacation that just sounds interesting, and we want to get the word out!
Check back often - this page will be updated regularly with new offers.
---
Movies and TV Shows that Inspire Travel

Have you ever watched a movie or TV show and thought, "I want to go THERE!"
I certainly have.
Here are a few movies and shows that have inspired me - whether or not I have actually gotten to the locations in the movie, they have made me think about places I want to see and have helped me create my "bucket list".
How about you?  What's on your travel bucket list?

---
I'm actually not a big fan of the The Lord of the Rings
books or movies, but I did see the first film and fell in love with New Zealand, where it was shot. One of my top fantasy destinations!
---
Under the Tuscan Sun
may not have been Oscar-worthy, but after seeing this film I dreamed of going to Tuscany (as did many, many others!). (And it's kind of a fun movie, too!)
---
Out of Africa
did win several Oscars, and if nothing else, it is just a gorgeous film to watch. The stunning scenery of Kenya will make you want to hop a plane and find Robert Redford!
---
One look at the property under dispute in The Descendants
, and you'll be on the next plane to Kauai. I've been to Kauai twice and have never actually been to the ranch land depicted in the movie - if that's not an excuse to go again, I don't know what is!
By the way, Pirates of the Caribbean: On Stranger Tides
was filmed on Kauai, as was Elvis's Blue Hawaii
; and, of course, the TV shows Hawaii Five-0
and Lost
used Oahu as a backdrop.
---
The Amazing Race
is absolutely my favorite TV show! Of course, there isn't ONE location to drool over on this show - over the course of 20+ seasons, there are hundreds!
I've added many places to my bucket list by watching this show - and eliminated a few, too. Always entertaining!
---
I guess my favorite travel movie is actually The Wizard of Oz
, but unfortunately, I can't find Oz on a map. Still, isn't it a great place to dream of??
---
Protect Your Vacation Investment with Insurance

This may not be the most "fun" thing to talk about, but it's important.
If you're paying a ton of money for your vacation (and even with a deal, travel is expensive!), why not protect that investment from the unexpected?
Let's face it, things happen - you could become sick or injured right before your trip, or have a family emergency. Or, your flight is delayed and you miss a connection or your cruise ship takes off without you!

Travel insurance can help you recoup your losses. From lost baggage to lost vacation days, there are levels of coverage that will protect you in the event the unexpected happens.
And it's not expensive!
I always get insurance for any trip that costs more than $1000 (that's just my personal guideline; your may be different). And it's well worth the cost!

---
Don't Forget Your Passport!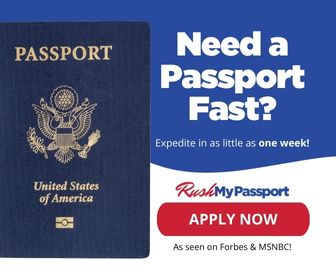 Your beach trip to the Caribbean or your tour of Europe won't happen without a Passport! Remember, you'll need a passport for trips to Canada and Mexico (even if you're driving across the border).
---
Where Would You Like to Go Next?
For more vacation ideas :
Return to Great Vacation Ideas for Women Home Page

Google